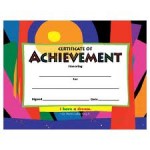 Shael Stonebridge chatted with me via Skype about his club.  He was the VP-Education last year for the club that earned the most leadership awards for any single club, 32, including 17 CLs, plus 23 communication awards, ending the year with 29 members (not a huge club).
Mike: Good evening, Shael!  So tell us about your club?
Shael: Langley Morning Toastmasters is in Langley, British Columbia, Canada, and we meet at 7 AM on Tuesdays.  We're known for educational awards!
Mike: Educational awards?  How so?
Shael: LMT earned 57 Educational awards in the last Toastmasters year!
Mike: WOW!  That's amazing — out of how many members?
Shael: LMT has a cap at 27 active members.  During this year we were mostly at full strength.
Mike: So about two awards for EACH member, on average.  How do you get new members to commit to this pace?
Shael: The pace is set by the club — most new members know nothing else so they fall right in with our program.
Mike: They have no idea other clubs take a more relaxed approach, they think this is how it works.  Nice.  What do you do to help them move along so well?
Shael: We schedule and assign all meeting roles in fair rotations — members do not volunteer or sign up for meeting roles.  This propels all members forward with educational achievements such as the CL and CC.
Mike: What's your typical meeting like?
Shael: LMT meets weekly.  We typically have 3 prepared speeches and 1 mini-ed or education session per meeting.  We also have 4 table topics participants but limit the time for all roles tightly to complete a 90-minute meeting on time … usually.  Each LMT member is scheduled to complete their CL in 5-6 months after joining the club.
Mike: Do you have a special agenda to help you assist all these people working on CLs?
Shael: Yes, LMT has a regular printed meeting agenda for each meeting.  LMT also has on the back side a CL Agenda for each meeting.  This CL Agenda (sample PDF attached) lists all members who have a CL Role at the meeting (that is a CL Role that they still need to complete their CL).  This CL Agenda also lists an assigned CL Evaluator and the page in the CL Manual where this evaluation is to be made (as many CL Roles occur multiple times).
The Chairman of the meeting ensures that the CL Agenda is reviewed at each meeting and that all CL manuals are exchanged.  Members are asked to always bring their CL Manuals as they could get a CL Role by default at a meeting.  The completed CL Roles are tracked in a "Member Progress" spreadsheet by the VP Ed or by the CL Coordinator and used to prepare the next week's CL Agenda.  This way all member progress through their CL Manuals rapidly and earn their CL pin.
Mike: Do you have speechathons too?  Do some of your members speak at other clubs?
Shael: Yes, we do have speech-fests and hold speech showcases instead of contests.  A showcase allows anyone to speak with no eligibility rules applicable.
Mike: Do you still send contestants on to area contests?
Shael: Yes we do.
Mike: How long does it usually take a new member to earn their CC award?
Shael: CCs usually take 1.5 to 2 years.
Mike: So you just keep them going, in the pipeline, you must be very good at member retention?
Shael: Yes, we have had several 100% renewals as members feel that they are really progressing with speeches and meeting roles.  AND … the club rewards EVERY achievement with an official pin presented at the meeting when the award is earned.
Mike: A lot of good practices there!
Shael: Thank you!
Mike: The club is just three years old, were you a founding member?  Has it always been this strong?
Shael: Yes, I was a founding member along with Robert Stone and Lois Wilson.  LMT became strong as soon as we had the critical mass of members to Charter.
Mike: How many Area Governors or other district leaders came out of your club last year?
Shael: Three — two Area Governors, Paul Keeris, Sandi Lawlor, and one Division Governor, Melanie Holloway.
Mike: Tell me more about what you personally achieved last year — you were VP-Ed?
Shael: Yes, I was VP Ed last year.  I achieved 22 educational awards including my second DTM.  During my year as Division Governor, the year before, I spoke 107 times which was a wonderful experience!
Mike: 107 times, over twice a week!  You obviously visited a lot of other clubs?
Shael: Yes, I have visited over 60 other Toastmasters clubs.  I am always interested to see how other clubs do things.  AND I always went prepared to give a manual speech — VERY often this did in fact happen.
Mike: "Every speech a manual speech", right?  How do you prepare a speech in just a few days?
Shael: I have now given over 320 Toastmasters speeches.  I no longer need to write them — I can think them.  Yes, I still prepare, but I can speak for 5-7 minutes on many topics with no preparation.
Mike: Impressive.  What's the farthest you've travelled to visit a Toastmasters club?
Shael: So far all have been here in the lower mainland of British Columbia.  I have thought of attending in Oregon or Seattle but it has not happened.  I have club mates who have attended meetings in Bavaria and Scotland.
Mike: Do you have a mentoring program in the club?
Shael: Yes, a mentor is assigned to each new member on day one of their membership.  We choose members who need to complete this CL role and we only require that they have been a member for a few months and have given a few speeches.  A mentor for a new member does not have to be an expert.  For questions beyond the knowledge of the assigned mentor, other club members can be asked.
Mike: How long have you been in Toastmasters (any club)?  Who is your mentor?
Shael: I have been a member for 5 years.  My mentor is Dave MacLean.
Mike: What are your goals in Toastmasters this year?
Shael: My goals are to promote my book on nutrition to as many clubs as possible by speaking and presenting — especially to the clubs that are designed to propel their members to be professional speakers and entrepreneurs such as All Pro and Just Pros Toastmasters advanced clubs.
Mike: Tell me more about these advanced clubs?
Shael: These special-focus advanced clubs provide intense 10-minute advanced evaluations with less sandwich than the usual TM evaluations.  These clubs are generally for more advanced Toastmasters who do not need or want the full sandwich any more.  They want to become professional speakers or good speakers as entrepreneurs.
Mike: With so many CLs, how do you find a membership or PR campaign for each one to chair in project 8?
Shael: LMT has a monthly membership contest so that as many members as possible in the year can be the CMCC — Club Membership Contest Chairman.  The Contest Chairman for that month keeps track of the members who bring guests and guests that become members.  That LMT member who brought the most guests gets a prize — a $10 certificate off the next club dues.  That member who brought the most guests that became members gets a $20 certificate.
Mike: Some great opportunities for your members to step up and become leaders there.  They may be small, but that's where it starts, especially for new members who are afraid to chair a meeting of 20 people.
Shael: Yes!  We had one new member several years ago named Ning Thosanthiah.  She was afraid of her own shadow.  After being a member of LMT for about 8 weeks she was scheduled to be Chairman of a meeting.  When I saw her name appear on the schedule of the Club Scheduler, I wondered if I should postpone this.  I decided to wait for her email saying that she was not ready — NO email came.
She chaired the meeting of 20 adults!  Her knees were quaking through the whole meeting, but she DID IT!  After the meeting I went up to her and put my hand on her shoulder and said: "Ning, you just chaired a meeting of 20 adults!  There is no difference between chairing 20 adults here and anywhere out there in the business world!"  Ning replied: "I did, didn't I!" with an enormous smile of empowerment on her face!
Mike: Now THAT is what Toastmasters is all about!
Shael: YES!  IT  IS!
Mike: What are your club's goals for this year (2012-12)?
Shael: To continue supporting and encouraging all members of LMT to advance each week in the Communication AND Leadership tracks that Toastmasters has to offer to get the maximum benefit possible from this GENIUS PROGRAM for gaining Leadership and Communication skills so vital in every aspect of life!
Mike: Any words of advice for club leaders who would like to help their club do as well as yours?
Shael: Club Leaders!  Ask yourself — "How can I as a member and how can we as a Club SERVE our members better to achieve their Leadership and Communication goals during their Toastmasters journey?"  Going out of our way to SERVE our members is the key to membership retention and to member achievement!
Mike: That IS the key, remember the member!  Thanks for your time today, Shael, and good luck with your future endeavors!
Shael: Thanks Mike!  A pleasure!
One club, one year, 57 educational awards!

,